Speculation Abound About Phil Hellmuth's New Home
Published on 2010-12-30 19:29:00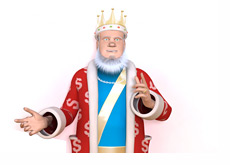 Earlier today, a big shake-up occurred in the online poker world as both Phil Hellmuth and Annie Duke have parted ways with UB.com.
Both players enjoyed long runs with UB, and both players stuck by the company during its darkest days.
It seems likely that Annie Duke will end up signing with Full Tilt Poker, as her brother, Howard Lederer, is one of the key figures at the company. It's hard to imagine that Annie would sign with another company.
This leaves Phil Hellmuth, who is easily one of the most recognizable names in the poker world. Where might the "Poker Brat" end up?
Full Tilt Poker? Phil Hellmuth would almost certainly require that he become an equity holder in any type of deal with the site. A while ago, Howard Lederer claimed that the two players that he really wanted to add to the "Team Full Tilt" roster were Doyle Brunson and Daniel Negreanu. Full Tilt would certainly ink Hellmuth to a deal, but Hellmuth may be too expensive.
Pokerstars? Again, I'm sure that Pokerstars would love to ink Hellmuth to a deal, but at what price? Hellmuth is not going to come cheap. Pokerstars seems to be mainly focusing on signing players who are residents of emerging poker markets, and Hellmuth wouldn't fit the bill. At the right price though, Pokerstars would definitely make this deal.
Somebody on Twitter mentioned that WSOP.com might want to sign Hellmuth to a deal. This would make a great deal of sense. Hellmuth could be THE face of the WSOP.com online poker room. The association would make sense considering that Hellmuth is the all-time WSOP bracelet leader. Microgame and WSOP just announced a joint venture to market the WSOP brand in Italy. Marketing efforts would be a great deal easier if Phil Hellmuth was attached to the brand.
Many people are expecting Hellmuth to sign with either FTP or Pokerstars, but I expect him to pull a swerve and sign with someone else. We should find out his new destination shortly.
--
Filed Under:
Poker Room News