Sequel to "Rounders" Is Reportedly On The Way
Published on 2010-12-21 09:08:00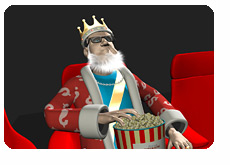 Alright, this news is a few days old, but it's too cool not to mention.
According to the Wall Street Journal, Miramax Films and Weinstein Co. have agreed to create sequels to the Bad Santa, Rounders and Shakespeare in Love films.
There have been rumors of a possible sequel to "Rounders" for years now, but it seems as though concrete plans are actually being finalized to bring "Rounders 2" to life.
The original "Rounders" movie, which was released in 1998, featured Matt Damon as Mike McDermott and Edward Norton as "Worm". Both actors have spoken glowingly of their time working on the original "Rounders", and it is thought that both would be open to filming "Rounders 2".
The original "Rounders" film grossed nearly $23 million at the box office. The real money was made from DVD sales though, as practically every poker player in the world has a copy of "Rounders" at home.
According to IMDB.com, Rounders 2 has been tentatively scheduled for a 2012 release.
Source: WSJ.com -
Miramax, Weinstein To Partner On Sequels for Bad Santa, Other Films
--
Filed Under:
Random Poker News