Online Poker Community Bands Together To Land Jared Huggins On "The Big Game"
Published on 2010-10-29 18:06:00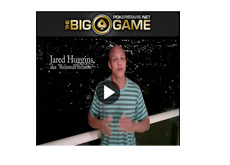 The drive to land Jared "Inhale Slow" Huggins on "The Big Game" has taken the next step forward, as Jared released his audition video yesterday.
The online poker community has rallied around Huggins over the past couple of months as people have become captivated by Jared's never-say-die attitude and optimism in the face of great adversity.
If you aren't familiar with the Jared Huggins story, then I would recommend reading through
this 2+2 post
and watching the videos. After doing so, it'll be easy to see why Huggins has received such unbelievable support from the online poker community.
Here is the "Big Game" audition tape from Jared Huggins:
--
Here is the link to vote for Jared if you would like to see him on the show:
Vote for Jared
Good luck Jared..
--
Filed Under:
Poker on TV