Tony G Apologizes After Outburst on "The Big Game"
Published on 2010-10-25 20:40:00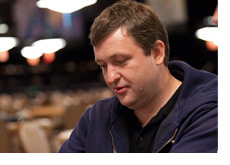 Earlier today on the PartyPoker.com blog, Tony G issued a tongue-in-cheek "apology" to Andrew "good2cu" Robl.
The apology revolves around Tony G's outburst towards Robl on a recent episode of "The Big Game". Robl was thinking about whether or not to call an $18,000 river bet from Daniel Negreanu, which sent Tony G into one of his tirades. Tony G accused Robl of taking far too long to think about each decision that he had to make.
Here is a clip from the show that features the outburst:
After Tony G's outburst, Robl ended up folding the hand, only to be shown the bluff from Daniel Negreanu.
--
Tony G, in a blog posting titled "I am the third most hated man in poker", said that he "crossed the line with calling the clock on him". Tony G then spent the rest of the blog pointing out why he wasn't wrong to call the clock, and that Robl would thank him "in later years for this treatment".
To top it all off, the blog posting features a picture of a "Lithuanian crocodile" holding Robl's severed head between its jaws.
Source: Partypoker.com -
I am the third most hated man in poker
Photo: GreasieWheels.com
--
Filed Under:
Random Poker News