Record for Largest Ever Chip Stack is Broken
Published on 2010-10-21 10:58:00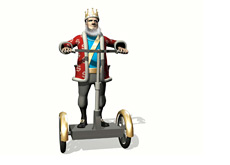 Earlier this year, Phil Laak smashed the world record for longest time spent playing poker in a single session.
The previous record, which was held by Paul Zimbler, stood at 78 hours, 25 minutes and 45 seconds. Laak absolutely crushed this record by playing for a ridiculous 115 hours straight.
Another poker related world record was established this week - the record for the world's largest chip stack.
The record was set by the "Paddy Power Poker" team ahead of the 2010 Irish Winter Festival which gets underway later this week.
The world record breaking chip stack stood at just under 10 feet tall, was a little under two feet wide and comprised of about 75,000 chips.
The stack reportedly took 5 people over 72 hours to assemble.
Here is some video of the attempt, in case you care:
--
Filed Under:
Random Poker News