Scott Montgomery Loses $2,000 in Bellagio Robbery
Published on 2010-10-11 13:58:00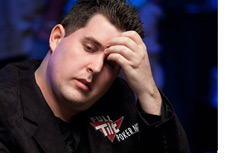 Full Tilt Poker pro Scott Montgomery took to his Twitter account yesterday to give details of his "mugging" inside of a bathroom at the Bellagio on Las Vegas.
Montgomery posted three Tweets about the incident:
"Got mugged today at Bellagio. Black guy pulled a knife on me in the restroom. I gave him the $2k in my wallet and he left."
"I called security, but they took like 15 mins so they didn't catch him. They are useless twits. Didn't even ask me to look at camera footage"
"Security pretty much just said oh well, life sucks, have a nice day. I'm pretty annoyed."
--
This isn't the first time that something like this has happened at the Bellagio.
In 2004, Greg Raymer famously fought off two assailants after they tried to rob "Fossilman" outside of his Bellagio hotel room. One of the would-be robbers had a gun, but Raymer was still able to fight the pair off and hang on to the $150,000 that he was reportedly carrying at the time.
You can read more about that incident here.
--
Scott Montgomery is best known for his deep run in the 2008 World Series of Poker main event. Montgomery ended up finishing in 5th place in that event for approximately $3.1 million.
Source:
Scott Montgomery's Twitter Account
Photo: GreasieWheels.com
--
Filed Under:
Random Poker News