"Zugwat" Featured in Washington Post Article
Published on 2010-10-09 04:14:00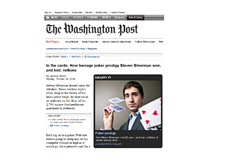 A few days ago, I wrote an article on Poker-King.com about Prahlad "prefontaine" Friedman and his recent heater on Pokerstars.
As I said in the article, Friedman's longevity as an online high stakes cash game player is very unusual. Many players will suddenly appear on the high stakes cash game scene, only to disappear just as quickly.
There are a number of different reasons as to why these players just "disappear". Some will go broke, the result of being underrolled and hitting a patch of negative variance. Some will move down because they just can't handle the swings that come with playing in high stakes cash games. Some will decide to join the live tournament circuit and cut way down on their time online. Other players, despite achieving phenomenal success, will become disinterested in poker and decide to do something else.
The Washington Post piece on "Zugwat" details his meteoric rise in the poker world and his subsequent decision to focus on something else (school in Silverman's case). One day a switch was flipped inside of Silverman, and he decided that the life of a high stakes grinder just wasn't for him.
"Zugwat" was your prototypical young and successful poker player. Silverman was drawn to online poker after Chris Moneymaker took down the WSOP main event in 2003 (just like millions of other players). He started playing poker as a teenager, decided to drop out of school after running up his bankroll and eventually became a millionaire. Then, just as fast as he had started, Silverman walked away from the game (for the most part) and decided to take his life in another direction.
It's an interesting read - the link is below.
Source: Washington Post -
How Teenage Poker Prodigy Steven Silverman Won, and lost, Millions
--
Filed Under:
Player Profiles