Former Full Tilt Employee Receives Subpoena
Published on 2010-09-14 19:51:00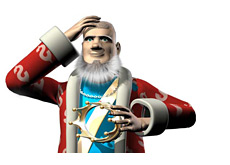 Earlier this week, Wicked Chops Poker (link below) broke the news that Jason "JDN" Newitt had been subpoenaed to appear in the US District Court (Southern District of New York).
Newitt was scheduled to appear earlier today (September 14th).
Newitt launched a lawsuit against Full Tilt Poker (Tiltware, Pocket Kings Ltd, etc) in September of last year, alleging that he had been "unfairly fired" from the company. Newitt also claimed that FTP had halted his distribution payments and seized his ownership stake in the company.
Raymond Bitar and Howard Lederer were also named as defendants in that lawsuit.
--
The reason for the Feds issuing a subpoena to Jason Newitt is unknown at this time. According to WCP, their sources have only been able to say that it is regarding Full Tilt Poker and can offer no information beyond that.
In my opinion, the likeliest scenario is that the Feds are building a case against Full Tilt Poker. Jason Newitt had unique access to the company, and is well-placed to answer questions regarding the company's ownership structure, how they process/processed deposits, etc. The Feds have successfully gone after and shut down a couple of payment processors for online poker sites after the past couple of years, so it might make sense that they would look to escalate their battle to include one of the major sites that may have utilized these processors and others like it.
Based on previous legal actions, it seems pretty likely that the Feds will ask Newitt how Full Tilt went about processing deposits for its US-based customers post-UIGEA.
--
If the US government does go after Full Tilt Poker, then you can be sure that the company will be ready. The site has been a cash machine for a number of years now, and you can be sure that the company has a nearly unlimited amount of cash that could be used to fight any legal actions. If the government does decide to pursue Full Tilt Poker and some of its principals, then you can be sure that they will get an intense fight against a well-funded opponent. I'm sure that FTP has been entertaining the possibility of a fight with the US government for years now, and you can be sure that they will be well-prepared if it ever becomes a reality.
--
This is all pure speculation at this point, as the reason for Newitt's subpoena hasn't been revealed as of yet.
Source: Wicked Chops Poker -
J.D. Newitt Subpoenaed By New York District Court
--
Filed Under:
Random Poker News