"Grolongo" on Pokerstars Is Rumored to be "Isildur1"
Published on 2010-09-09 17:22:00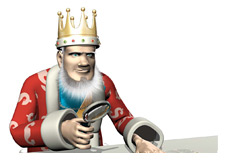 One player has been the center of the cash game action on Pokerstars over the past few days - "grolongo".
Many people have been speculating that the man behind the "grolongo" account is none other than Viktor Blom, who is best known as "Isildur1" on Full Tilt Poker.
"Isildur1" catapulted to poker superstardom in 2009, running up an obscene amount of money before spectacularly flaming out against the likes of Phil Ivey and Patrik Antonius. "Isildur1" was also on the losing end of the largest pot in online poker history, a $1.3 million+ monster that was lost to Patrik Antonius.
--
It certainly appears as though "grolongo" could be Viktor Blom. "grolongo" and "Isildur1" both hail from Sweden, they both share a hyper-aggressive style, they both like to play a large number of heads up tables at the same time (against different opponents as well), and they both prefer playing deep-stacked poker. Both players also have the ability to build up massive stacks in a very short period of time (and lose them just as quickly).
The playing styles seem similar, and both "Isildur1" and "grolongo" seem comfortable switching back and forth between Pot Limit Omaha and No Limit Hold'em.
Brian "$tinger88" Hastings also engaged in a multi-table PLO battle against "grolongo" earlier this morning, which may indicate that Hastings believes that "grolongo" is Viktor Blom as well. If you remember, Hastings had that phenomenal day against "Isildur1" in December of 2009 when he managed to win over $4 million in just one day.
--
In addition,
this article
(you may have to translate it) from five months ago also tries to make the connection between "grolongo" and Viktor Blom.
--
One thing is for sure - "grolongo" certainly appears to be Viktor Blom, aka "Isildur1".
--
Filed Under:
Cash Game Results