WCOOP Reload Bonus on Pokerstars Much Smaller Than Last Year's
Published on 2010-09-05 01:11:00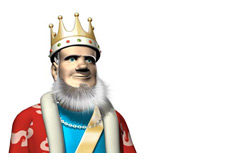 Let's be honest here - this year's WCOOP reload bonus sucks.
Pokerstars typically offers a reload bonus to celebrate the WCOOP (World Championship of Online Poker), and this year is no different.
When Pokerstars announced earlier in the year that the 2010 WCOOP was going to have a guaranteed prize pool of $50 million, I thought for sure that they would be offering a large reload bonus offer in conjunction with the event. After all, the whole point of the WCOOP reload bonus is to get people playing on Pokerstars in the days leading up to the WCOOP, so that as many people turn out for the tournament series as possible.
In 2009, Pokerstars offered a 50% reload bonus of up to $300. So, if you deposited $600, then you would be eligible to earn the maximum bonus of $300.
In addition, Pokerstars allowed three qualifying deposits, provided that the first one took place before August 14th, 2009. One more thing - in 2009, Pokerstars gave its players six months to earn the WCOOP reload bonus.
You can
read the terms of the 2009 WCOOP bonus offer here.
--
I thought for sure that Pokerstars would be offering up something similar this year, especially given the fact that this year's WCOOP is expected to be bigger than ever.
No dice.
Let's look at this year's WCOOP reload bonus:
20% reload bonus of up to $100
As far as I can tell, Pokerstars has scrapped the multiple qualifying bonuses (there is no mention of being able to deposit more than once on their site). So, unless they forgot to add this information to their site, only one deposit will count towards the reload bonus.
In addition, Pokerstars is only giving its players 20 days to earn as much of the reload bonus as they can. Last year was six months. If you want to earn the entire $100 reload bonus, then you are going to have to earn 2,000 VPPs (20 VPPs per $1) in just 20 days.
--
Free money is free money, so we can't complain too much, but this reload bonus is pretty weak, especially when compared to previous years.
Pokerstars is missing out on a great opportunity to pull some accounts (at least temporarily) over from Full Tilt Poker in time for the WCOOP. They are going to be making a fortune on the WCOOP as it is, so why not splash some money out on a decent reload bonus?
--
Filed Under:
Poker Bonus Promotions