Negreanu/Duke Feud Boils Over Once Again
Published on 2010-08-24 05:56:00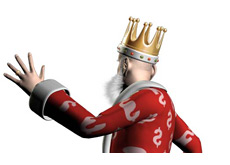 The fact that Annie Duke and Daniel Negreanu don't like each other is one of the worst kept secrets in poker. However, many people don't realize just how far back their feud goes.
The origins of the feud can be traced back to the late '90s, long before either player had risen to the level of fame that they both enjoy today.
7-8 years ago, Daniel Negreanu made this now-infamous post on rec.gambling.poker in which he presented a long laundry list of the reasons why he didn't like Annie Duke. The post contained some pretty serious accusations, such as the claim that Duke enjoying spying on other player's hole cards. Source:
Rec.gambling.poker
In addition, Negreanu also liked to point out Duke's various shortcomings (in his opinion) when it came to her personal hygiene.
A few days later, Howard Lederer (Annie Duke's brother)
joined the fray
to defend the honor of his sister.
Here is a link to another post from Lederer
, which contains an email that Negreanu reportedly sent to Duke:
From: daniel negreanu (kidpo..@hotmail.com)
To: (fluffh..@lvcm.com)
Sent: Tuesday, February 18, 2003 3:41 AM
Subject: Stop your whining
You got a lot of nerve you dizzy c***.  If someone asks me if you are Puke, that's exactly what I'll tell them.  You talk all kinds of s*** about me and I could care less. You are entitled to say what you want about me, I don't care in the least.
You trying to censor me?  Ah naw, that ain't gonna happen.  I'll say what the f*** I want to say about you.  You think "I" start those discussions? Bitch please, I'm not the only one who has witnessed you be your pukey self.
Wait till you read McManus' new book... what- are you going to try to have it cleared from the shelves too! lol.
People SEEK me out to tell me how much they hate you.  As for me sayin' s*** about you? Deal with it.  I ain't goin' anywhere."
--
The nasty Duke/Negreanu feud was obviously never settled (based on Negreanu's recent comments) and continued to simmer throughout the years. In recent days, the feud has boiled over once again, as nasty as ever.
Negreanu recently
conducted an interview with Pokerplayer.co.uk
in which he was asked about the ladies event at the World Series of Poker. Annie Duke believes that the ladies event should be removed from the schedule (
you can read her reasons here
), while Negreanu
takes the other side
.
Negreanu's comments re: the ladies event on Pokerplayer.co.uk included these choice words when referring to Duke:
"So I'm like 'how offensive are you, you f***ing c***? You want to say you're speaking for women, yet you claim superiority over all of them.'"
Many people didn't believe that Negreanu would actually say these words, especially while being interviewed for a poker magazine. Negreanu is extremely media-savvy and the face of Pokerstars - surely he couldn't be this dumb?
Negreanu addressed his use of the word in the interview below, basically claiming that he had made the statement off the record and that it shouldn't have been included in the interview with Pokerplayer.co.uk:
Negreanu's interview became a hot topic on Twitter, with
Howard Lederer
,
Annie Duke
,
Todd Brunson
and even
Doyle Brunson
all weighing in. Doyle summed up his thoughts with:
"That's brutal".
--
If you are thinking that Negreanu will apologize to Duke for his comments, I wouldn't hold your breath - I think that he would rather pull out his toenails one by one than apologize to Duke. This is one feud that will likely continue for many years to come.
Note to anyone - if you use the "c" word, expect to get this type of reaction:
--
Filed Under:
Random Poker News