Phil Laak Breaks 7 Bones In ATV Accident
Published on 2010-08-06 02:17:00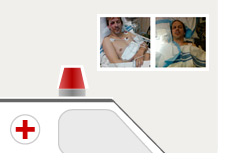 According to his Twitter account, Phil Laak is currently holed up in an Oregon hospital right now, recovering from an ATV accident that left him with seven broken bones.
According to good friend Antonio Esfandiari:
"We went a little crazy atv'ing in the doons".
Based on preliminary reports of the incident, it sounds as though Laak was pretty lucky to be able to walk away from the crash.
Laak also suffered lacerations to his eye in the accident, as you can clearly see in the pictures below:

--
Laak says that the injuries "could have been worse" and that "I'm lucky to be in one piece".
Source:
Phil Laak's Twitter Account
--
Filed Under:
Random Poker News