Who Will Tom Dwan Face Off Against Next?
Published on 2010-07-24 08:30:00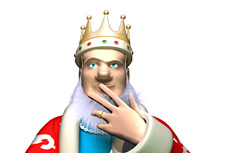 Time flies - it's been over a year and a half since Tom "durrrr" Dwan first issued his "challenge" to the online poker world.
Patrik Antonius was the first player to accept the challenge, lured by the incredible odds that Dwan was offering.
Initially it was thought that Dwan and Antonius would burn through the 50k hand challenge in just a few months. After that, "durrrr" would take on one of the other two players who had also accepted his challenge - Phil Ivey and David Benyamine.
The battle between Antonius and Dwan debuted to much fanfare, and everybody in the poker world was paying attention. Whenever Antonius and Dwan would take their seats at the special "durrrr Challenge" tables, thousands of railbirds from around the world would hop on to Full Tilt Poker to watch the battle.
The momentum of the "challenge" soon sputtered though as Antonius and "durrrr" played only sporadically. When Dwan and Antonius did manage to play, they would usually only log a couple of hundred hands before one of them would quit.
The first 50,000 hand challenge started about a year and a half ago and is still in progress today. The last session between Antonius and Dwan occurred nearly three months ago on April 30th.
Tom Dwan has a nearly insurmountable $1,844,430 lead in the challenge after 38,974 hands. Dwan has not been officially declared the winner as of yet, but you have to think that the chances are pretty good that Antonius has decided to throw in the towel and buy his way out. After all, with just over 11,000 hands left in the challenge, Antonius would need to make an average of $167.67 per hand just to catch Dwan.
So who's next for "durrrr"?
Well, the original plan of playing either Phil Ivey or David Benyamine next seems to have fallen through for whatever reason. The dream match-up in the "durrrr Challenge" would be Dwan vs Ivey, but it doesn't seem like it will happen.
The two rumored future opponents for Dwan in the "durrrr Challenge" are Brian Townsend and "jungleman12". Dwan and "jungleman12" were seen discussing the possibility of playing each other last week on Full Tilt Poker - whether or not "jungleman12" would end up actually accepting the challenge is another question.
Dwan said that he wants to "crank out at least 2" challenges before London (WSOPE), and that he could play 2 at once if Townsend and "jungleman12" both accepted the challenge at the same time.
I don't think that anybody really cares who Dwan plays at this point, as long as the challenge is completed in a relatively short period of time (few months max). The first "durrrr Challenge" has progressed at a ridiculously slow pace.
Both "jungleman12" and Townsend would provide entertaining challenges - let's hope that one of them (or both) end up actually accepting Dwan's challenge so that we can finally put the first "durrrr Challenge" out of its misery.
--
Filed Under:
Random Poker News