Bellagio Cup VI To Kick Off Ninth Season of World Poker Tour
Published on 2010-07-11 07:56:00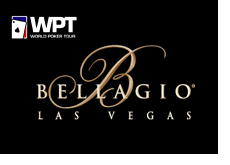 The ninth season of the WPT (World Poker Tour) will kick off on Sunday afternoon when the Bellagio Cup VI gets under way in Las Vegas.
The World Series of Poker main event is taking a day off on Sunday (Day 3 will get under way on Monday), which means that the eyes of the poker world will be focused on the first day of the Bellagio Cup VI.
You can expect many of the top names who have already been eliminated from the WSOP main event (Phil Ivey, Tom Dwan, Doyle Brunson are possibilities) to turn up for the sixth installment of the Bellagio Cup.
Last year, Alexandre Gomes navigated through a very tough final table (Faraz Jaka, Justin Smith, Alec Torelli, Christoffer Sonesson, Erik Seidel) to take down the Bellagio Cup V. For his victory, Gomes walked away with $1,187,670.
The buy-in for this year's event will be dropped to $10,000 + $300 (from $15,000 + $400) in order to encourage more players to sign up. In 2009, a total of 268 players participated in the event, which ended up creating a prize pool of nearly $4 million.
Some of the past winners of the Bellagio Cup:
2009 - Alexandre Gomes, $1,187,670
2008 - Mike Watson, $1,673,770
2007 - Kevin Saul, $1,342,320
--
In related news, the World Poker Tour announced on Saturday that Kimberly Lansing would be rejoining the show as "the anchor for both the television show and WPT Live updates." Lansing will be "opening the show, providing commentary, and interviewing on site at every stop."
--
Filed Under:
Random Poker News