Tom "durrrr" Dwan Now Has a Twitter Account
Published on 2010-06-29 18:42:00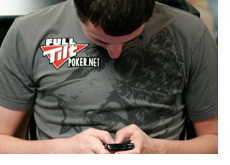 There are countless fake Tom "durrrr" Dwan Twitter accounts floating around, but yesterday the real Tom Dwan finally decided to start his own account.
Dwan posted his first ever "Tweet" yesterday. It was:
"I have a twitter... Hiya"
Dwan was fairly active during his first day on Twitter, posting about 20 messages over 24 hours.
The account already has 1,682 followers in less than 24 hours. Considering that Daniel Negreanu has nearly 50,000 followers for his Twitter account, you can safely assume that Dwan's follower total will dramatically increase over the coming days and weeks.
Tom Dwan is currently participating in Day 2 of the $5k PLO event (Event #50). He is severely short-stacked at this point (about 8k in chips - average chip stack is over 33k), and will need to run really well to get himself back into contention.
Link:
Tom Dwan's Twitter Account
Photo:
WSOP 2010 - Itís a Twitter World
--
Filed Under:
Random Poker News