Everest Poker Files Trademark Infringement Suit Against Harrah's
Published on 2010-06-13 20:25:00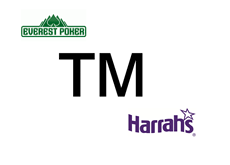 In March of 2008, Everest Poker and Harrah's Entertainment, Inc. signed a three-year World Series of Poker sponsorship deal.
The deal called for Everest Poker's parent company to pay Harrah's $22.5 million over three years - $6.2 million in 2008, $7.9 million in 2009 and $8.4 million in 2010. In return, Everest Poker would receive "strategic brand placement" at the World Series of Poker, in addition to some other perks. Both sides were happy - Harrah's had inked a multi-million dollar deal that would further add to their revenues, and Everest Poker would have their logo displayed to millions of people around the world during WSOP broadcasts.
Somewhere along the line, the warm feelings that existed between Everest Poker and Harrah's started to dissipate.
Earlier this year (and just a few months before the 2010 World Series of Poker got under way), Everest Poker's parent company, Ultra Internet Media S.A., filed suit against Harrah's, claiming that the company had breached their sponsorship agreement. Ultra Internet Media S.A. claimed that Everest Poker's logo had been electronically replaced during broadcasts of WSOP events on ESPN's affiliate in France (RTL9) and replaced with Full Tilt Poker's logo. Ultra Internet Media S.A. claimed that Harrah's had violated the sponsorship deal by allowing this to happen.
Harrah's responded by filing their own suit, in which they basically claimed that Everest Poker had been receiving plenty of exposure in the United States, and that France was not mentioned in the sponsorship deal or brought up during negotiations between the two sides.
Earlier this week, Everest Gaming Ltd. (which claims to own the Everest Poker trademarks) filed a trademark infringement lawsuit against Harrah's. Everest Gaming Ltd. claims that the Everest Poker trademarks are "on display at the Rio as large banners or wall posters, on the inner rung of certain tables used for the 2010 World Series of Poker and on television monitors in the casino displaying the schedule of events."
Everest Gaming Ltd. further claims that Harrah's "are refusing to remove the trademarks in an effort to try to force payment by Everest for defendant's use of such marks, and in order to bolster the legitimacy of the World Series of Poker in the minds of tournament participants, fans and the viewing public."
It will be interesting to see how this increasingly messy dispute between the two companies turns out. Will Everest Poker be forced to pay the $8.4 million for the final year of their sponsorship deal with Harrah's, or will be final year of the agreement be declared null and void?
One thing is for sure - Everest Poker won't be back as a World Series of Poker sponsor next year.
Source: Las Vegas Sun -
Online Poker Company Accuses Harrah's of Infringing on Trademark
--
Filed Under:
Random Poker News