"PokerNews Strategy" Relaunches After "Long Hiatus"
Published on 2010-06-10 20:57:00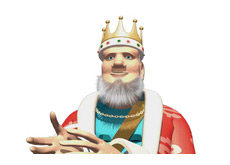 In September of 2008, Pokernews launched "PokerNews Strategy", a product that was set to compete against the likes of Cardrunners and PokerXFactor in the online poker instructional video niche.
"PokerNews Strategy" had some big names involved, as Patrik Antonius, Lex "RaSZi" Veldhuis, Tony G, Christopher "Genius28" Lee and James "Mig.com" Mackey were all on board to contribute content to the new venture.
What separated the original version of "PokerNews Strategy" from the competition was that the instructors would appear on camera while recording their instructional content. For instance, one of the first videos posted on the site featured Patrik Antonius, on screen, playing $200/$400 Pot Limit Omaha while wearing a huge headset.
Despite the big names that were attached to the site, "PokerNews Strategy" never really gained any traction and was soon on a hiatus.
Nearly two years after originally launching in September of 2008, "PokerNews Strategy" is back again.
Randy "nanonoko" Lew (Team Pokerstars Pro and legendary cash game grinder) is going to be the lead instructor for "PokerNews Strategy". He will also be joined by:
Tony G
Kane "Nascar_1949" Kalas
Evan "Neonpils99" Parkes
Billy "durangodan35" Kopp
Rayan "rkruok" Nathan
Dustin "neverwin" Woolf
Jake "psutennis11" Toole
Frank "blueberieez" Jordan
You can see a sample video
from Kane "Nascar_1949" Kalas here.
Names such as Patrik Antonius, Lex Veldhuis and Christopher Lee seem to be no longer involved in this venture.
It will be interesting to see how "PokerNews Strategy" does this time around..
Disclaimer: We have no relationship with PokerNews and haven't been paid for this article.
Source:
PokerNews Strategy
--
Filed Under:
Random Poker News