Phil Hellmuth, Tom Dwan To Appear in $100k Cash Game
Published on 2010-06-07 23:01:00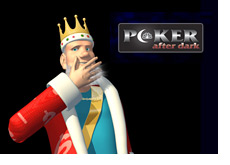 With the World Series of Poker currently taking place, there is plenty to follow in the poker world right now.
This article is a reminder that there are two brand new weeks of cash game action coming up on "Poker After Dark", starting later tonight (2:05 am) on NBC.
The two weeks of high stakes cash game action will feature some of the biggest names in the poker world, including:
-Tom Dwan
-Phil Hellmuth
-Eli Elezra
-Phil Laak
-Doyle Brunson
-Gus Hansen
In addition, David "Viffer" Peat will also be making an appearance on the show sometime over the next two weeks.
The minimum buy-in for the game will be $100,000, while the maximum buy-in will be $250,000.
With Phil Laak, Gus Hansen and David Peat all set to participate over the next couple of weeks, you can be pretty sure that Phil Hellmuth will blow a gasket at some point.
A few notes from the press release circulated earlier today:
-blinds will start at $200/$400 with a $100 ante
-the Seven-Deuce game will be introduced at some point
-"One decision in particular is riveting, and will be remembered for years to come"
-"There are numerous rebuys along the way as well as some pretty wild swings."
-"..something very unusual occurs at the beginning of this game that viewers are not accustomed to seeing.."
You might want to take a break from your World Series of Poker 'birding and tune in this week, as it sounds as though there will be plenty of entertaining moments.
--
Filed Under:
Poker on TV