"jungleman12" Up $1.3 Million In May on Full Tilt Poker
Published on 2010-05-22 20:09:00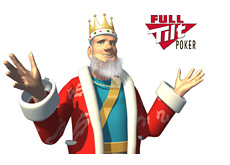 With the World Series of Poker less than a week away, the high stakes tables on Full Tilt Poker have turned into a bit of a ghost town.
Many of the top players in the world are currently resting up and making preparations for the grueling couple of months that lie ahead. Many top players are going to be playing as many events as they possibly can, fueled by massive bracelet prop bets. In addition, any free time that these players might enjoy will likely be spent in "Bobby's Room" or at local golf courses, where even more money will be on the line.
For that reason, the action on Full Tilt Poker has completely died down in recent weeks as the World Series of Poker draws closer.
"jungleman12" has had the best month of any cash game player on Full Tilt Poker so far this month, making himself a little less than $1.3 million over 18,030 tracked hands. Thanks to this result, "jungleman12" now finds himself with a little over $2 million in profits on FTP in 2010.
The second most profitable player in May on Full Tilt (and the only other player to break the $1 million mark in profits) is Gus Hansen, who has made about $1.0 million over 20,206 tracked hands. Thanks to his seven figure profits in May, Hansen has managed to erase his losses and currently sits with a profit of around $836k for the year.
The rest of the top five looks like this:
"harrington25" - $854k
Phil Ivey - $765k
"Luukie21" - $333k
Phil Ivey, despite only playing 18,525 hands on Full Tilt so far this year, has still managed to make over $2 million.
--
Tom "durrrr" Dwan, after getting off to an absolutely scorching start in 2010, has given about $4 million back over the past couple of months.
May has seen "durrrr" give back about $2.1 million to the high stakes community, which has brought his total profits for the year down to about $3.2 million. This is still good for #1 on the most profitable list in 2010 on Full Tilt, but still well off of the $7 million in profits that "durrrr" was up earlier in the year.
Other players who are having a rough go of it in May include:
Ashton "theASHMAN103" Griffin, -$511k
"EarlyCry", -$427k
Brian Townsend, -$367k
"Triko", -$353k
--
Source:
HighStakesDB.com
--
Filed Under:
Cash Game Results