SCOOP 2010 Finishes with $63,802,405 in Total Prize Money
Published on 2010-05-19 03:20:00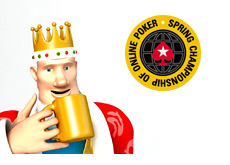 The 2010 SCOOP (Spring Championship of Online Poker) on Pokerstars ended up exceeding even the most optimistic of expectations, as the series ended up finishing with a staggering total of nearly $64 million in prize money.
Pokerstars had originally been planning on guaranteeing a total of $36 million in prize money, but ultimately ended up revising the schedule after consulting with its customers. The final guaranteed prize pool for the 2010 SCOOP ended up at $45 million, but the final prize pool still ended up beating this number by over 42%.
The three tournaments that comprised SCOOP-38 (Main Event) all ended up easily topping their guarantees as well. This resulted in some very big payouts for the eventual winners of the events:
SCOOP-38 Main Event L Winner - "midjat", $191,892.59
SCOOP-38 Main Event M Winner - "Mr.M.M0ney", $443,137.50
SCOOP-38 Main Event H Winner - "toetagU", $1,162,350.00
Pokerstars' decision to expand the size of the tournament helped the total prize pool for the 2010 SCOOP come in at over 62% higher than the 2009 event. In addition, the decision to bump the SCOOP back to May surely helped the numbers as well.
The Spring Championship of Online Poker has become the largest online poker tournament series in just the first two years of its existence. The WCOOP previously held this title, but the 2010 SCOOP prize pool ended up topping the 2009 WCOOP by almost $13 million. It will be interesting to see if Pokerstars plans on expanding the 2010 WCOOP as well - that schedule should be released over the next month or so.
Congratulations to everyone that managed to take down a SCOOP event this year, and congratulations to Pokerstars for putting on yet another monster event.
--
Filed Under:
Poker Room News