PartyGaming Shares Tumble 15%
Published on 2010-05-08 18:28:00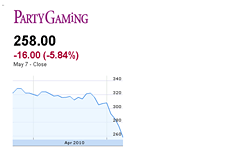 It was a rough week for PartyGaming shareholders this past week as shares in the company fell over 15%, capped off by a 6% loss on Friday.
Shares in the company were slowly trending down throughout the week, thanks to nervousness in the world equity markets.
However, the selloff really accelerated towards the end of the week after the company released their Q1 results.
The company announced that revenues were up 27% to $127.1 million from last year. Poker revenues were down ($53.6 million to $47.8 million), while casino, bingo and sports betting revenues were all up.
The company blamed "competition from US-facing sites" for the decline in poker revenues.
Average net daily revenues were up 24% compared to last year, but down 4% compared to the previous quarter.
Investors didn't like what they heard from the quarterly report, as they sent the stock down 5.84% on Friday on above average volume.
The entire PartyGaming company is currently valued at a little over a billion pounds, which works out to about $1.5 billion USD.
Source: WSJ.com -
PartyGaming Maintains Guidance But Shares Fall
--
Filed Under:
Poker Room News