Tom Dwan, Patrik Antonius Big Winners So Far This Month
Published on 2010-04-16 00:26:00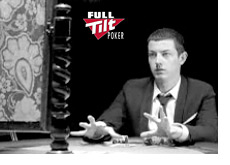 Tom Dwan continues to dominate in 2010, adding another $1.45 million to his already impressive profits in the first two weeks of April.
Dwan, who dropped a total of $5.57 million on Full Tilt Poker in 2009 (according to HighStakesDB.com), has come roaring back in 2010, making a total of $5.43 million over 147,365 tracked hands. "durrrr" has made almost triple the profits of the next most profitable player, Ilari "Ziigmund" Sahamies (+$2.07 million).
After dropping about $300k in January, "durrrr" has come roaring back. Here is a breakdown of his profits/losses by month in 2010:
January, -300k
February, +$1.0 million
March, +3.27 million
April, +$1.45 million
Dwan has been been putting in a ton of hands on Full Tilt Poker this year - far more than any other of the regulars in the big games on the site. This frequent play has done wonders for Dwan's bankroll, as he has been able to make nearly $8 million on Full Tilt Poker since the beginning of December.
--
Other players who has gotten off to strong starts in April include:
Patrik Antonius, +$764k
"URnotINdanger2", +$626k
Gus Hansen, +$557k
"MicahJ", +$556k
Patrik Antonius has finally gotten a bit of positive momentum after getting off to a horrible start in 2010. However, despite the $764k uptick over the past few weeks, Antonius is still down over $2.25 million for the year.
Gus Hansen has also managed to halt a recent slide that saw him give nearly all of his profits back for the year. Including his $500k upswing in April, Hansen is now up about $763k for the year.
--
The biggest losers for the month of April on FTP are:
Justin "Zeejustin" Bonomo, -$487k
"NEKOTYAN", -$414k
Phil Ivey, -$367k
Cole South, -$329k
"buck99", -$318k
Thanks to his $500k loss so far in April, "Zeejustin" is now down about $1.3 million for the year on Full Tilt Poker.
--
With the EPT Monte Carlo and World Series of Poker just around the corner, you can safely assume that you will see less of the likes of Tom Dwan, Patrik Antonius and Phil Ivey online.
Source:
HighStakesDB.com
--
Filed Under:
Cash Game Results