True Identity of "Isildur1" Soon to Be Revealed - Hopefully
Published on 2010-03-31 21:32:00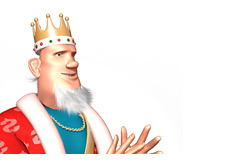 According to Tony G himself, "Isildur1" has agreed to participate in the PartyPoker.com "Big Game IV" which is set to take place from April 11-13th at Les Ambassadeurs in London.
In late March, Tony G offered to stake "Isildur1" in the 48 hour cash game. Tony G was so anxious to lure "Isildur1" to London that he even offered to pay for his airfare and hotel costs.
Despite wanting to stay out of the spotlight, "Isildur1" has apparently accepted Tony G's offer and will be appearing in the "Big Game IV" in London.
Event organizers have agreed that "Isildur1" can "wear a mask" to protect his identity if he chooses to remain anonymous. Let's hope that this doesn't happen, as it would be completely ridiculous.
Some of the other players who will be participating in the PartyPoker.com Big Game IV include:
Tony G, Phil Laak, Isaac Haxton and Jennifer Tilly
According to Matchroom Poker, more "big names" will be announced shortly.
There is always the possibility that this is an April Fool's joke, but according to
this article on Matchroompoker.com
, a PartyPoker.com representative claims that this "is not an April fool".
Many have speculated as to the identity of "Isildur1", with most believing that it is Viktor Blom. We'll soon find out I guess..
One thing is for sure - this is a great bit of promotion for PartyPoker's "Big Game IV".
--
Filed Under:
Poker on TV