Dwan Continues to Widen Lead in "durrrr Challenge"
Published on 2010-03-13 04:22:00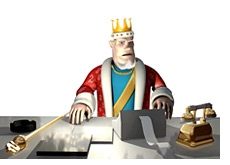 The latest installment in the "durrrr Challenge" earlier today only lasted nine minutes and 61 hands, but Tom "durrrr" Dwan was still able to extend his lead by over $200k.
During today's micro-session between Dwan and Antonius, "durrrr" was able to extend his lead in the challenge by a total of $230,710.
A total of 33,303 hands have now been completed, and Dwan is up by $1,986,418.00.
This means that Patrik Antonius has less than 17,000 hands to make up a massive $2 million deficit. In order to catch up to Dwan, Antonius will need to show an average profit of nearly $120 per hand over the remaining 16,697 hands of the challenge.
Dwan, on the other hand, has managed to earn a profit of around $60 per hand throughout the first 33k hands of the challenge, so Antonius will have to run REALLY well in order to catch up.
Here is a recap of the biggest hand from today's session - the game broke shortly after:
--
Antonius had the button and $92k in his stack, while Dwan had about $97k.
There was $7,200 in the pot when the flop came:
Qc-Js-Kc
Dwan led out with a bet of $4,800, and Antonius called.
The turn brought the 7s.
Dwan led out again, Antonius raised to $53,400, Dwan pushed and Antonius called.
The two players showed:
Dwan - 10s-Ah-8d-Qh
Antonius - Qs-9c-6c-2s
Dwan flopped the nut straight, while Antonius had both a spade and club flush draw.
The river brought the Jd, helping neither player and giving "durrrr" the $184,234.50 pot.
--
Filed Under:
Cash Game Results