"durrrr" Takes $950k+ From "Isildur1" In Short Session
Published on 2010-03-10 21:59:00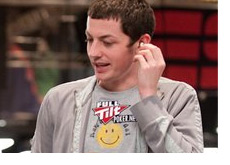 In November of 2009, Tom "durrrr" Dwan and "Isildur1" waged war against each other in a number of high stakes cash game battles on Full Tilt Poker.
"Isildur1" constantly got the best of Dwan in their November battles - "Isildur1" made nearly $6 million in the first three weeks of November, most of which came from Dwan's bankroll. "durrrr", on the other hand, lost about $5.5 million during this horrific three week stretch.
Many figured that Dwan would eventually get the best of "Isildur1", but the mysterious Swedish player eventually lost his money to the likes of Phil Ivey, Patrik Antonius and Brian Hastings. "durrrr" was never able to get his revenge.
Earlier today, Dwan and "Isildur1" re-ignited their battle.
"Isildur1", whose bankroll was flush once again after a $1.4 million win yesterday, was going to look to smash Dwan in a repeat of their November battles.
It didn't work out that way though, as Tom "durrrr" Dwan was able to destroy "Isildur1" for about $950k over a short 900+ hand session.
"Isildur1" is still way up in the lifetime battle between the two players, but winning a million off of "Isildur1" must have felt particularly sweet for Dwan today.
--
In just a little over three months, "durrrr" has almost completely eliminated his Jan 1/09 to Nov 30/09 losses.
From 01/01/09 to 11/30/09, Dwan lost a staggering $6.83 million on Full Tilt Poker. A great deal of these losses came in November of '09, when "durrrr" lost a staggering $6.37 million.
Many people were wondering if Dwan would ever be able to pull out of his tailspin.
From 12/01/09 to 03/10/10, Tom "durrrr" Dwan has staged a remarkable comeback, making a little less than $6 million (including his session against "Isildur1" earlier today). Over this stretch, Dwan has played about 122k hands on Full Tilt Poker, meaning that he has made about $49 for every hand that he has played on the site during this time.
The legend of "durrrr" continues to grow - I'm not sure how many players would be able to battle back from a $7 million loss, especially in less than four months.
Source:
HighStakesDB.com
Photo: GreasieWheels
--
Filed Under:
Cash Game Results