EPT Berlin Main Event Halted After Armed Robbery
Published on 2010-03-06 20:18:00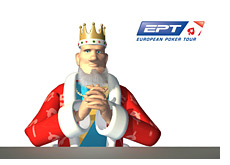 At 2:10 pm local time (Berlin) earlier today, there was a somewhat cryptic posting on Pokerstarsblog.com:
"OK, there's been a bit of an incident here - and the tournament has been interrupted. We're trying to establish precisely what happened and we will pass on that information when we have it. In the meantime, play has been suspended."
An hour and 15 minutes later, there was this statement released by the EPT, describing the "incident":
"An armed robbery by six men took place today at EPT Berlin. Nobody was seriously injured. We hope to re-start all events at 4pm local time. A police investigation is under way. If you have video footage or photographs that could help the police, please contact the EPT organizers as soon as possible."
The robbery took place right in the middle of Day 4 of the EPT Berlin main event.
Play ended up resuming about four hours after the incident initially took place.
Here is a clip from the tournament when the armed robbers stormed into the room:
The armed robbers were wearing masks and apparently stormed the tournament armed with machetes and hand-held guns and other weapons.
Here is video of one of the robbers being apprehended and then released after some of his friends doubled back for him:
The robbers apparently initially took 800k Euros, but ended up running off with around 250k Euros after one of the bags of money was recovered.
No word as to whether or not the armed robbers have been apprehended as of yet..
--
Filed Under:
Random Poker News