Brian Townsend Down About $2.2 Million in 2010
Published on 2010-03-03 23:26:00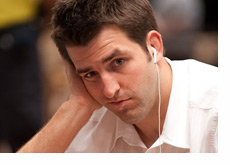 Brian Townsend, "Team Cardrunners" member and "red" Full Tilt player, has not gotten off to a great start in 2010.
As a matter of fact, Townsend has lost more than any other player on Full Tilt Poker through the first 2+ months of the year, dropping an estimated $2.22 million over 53,797 tracked hands. This is slightly worse than Patrik Antonius, who has lost a total of $2.1 million over 33,562 tracked hands.
Townsend didn't lose the money over a couple of really bad sessions - instead, he has steadily lost the $2.2 million from January until now.
In January, Townsend lost a total of $314k over 27,096 tracked hands.
In February, Townsend's losses started to snowball, as he dropped nearly $1.3 million over 22,132 tracked hands.
Townsend's downswing has continued into March, where he has lost an estimated $617k over just 4,569 tracked hands.
This downswing has wiped out nearly all of Townsend's gains on Full Tilt from 2009, when he made an estimated $2.4 million. Townsend, who had taken some time off from the high stakes games, seemed to be back.
The downturn has confounded the "Team Cardrunners" member, and he has recently taken to his blog to vent his frustrations.
While Townsend has struggled mightily to start the year, fellow "Team Cardrunners" member Cole South has started off blisteringly hot, banking about $2.25 million in just over two months. South did lose over $1.25 million on March 2nd though, so it will be interesting to see how he does over the next few weeks.
Source:
HighStakesDB.com
Photo: GreasieWheels.com
--
Filed Under:
Cash Game Results