Cole South Off To An Incredible Start in 2010
Published on 2010-03-01 20:31:00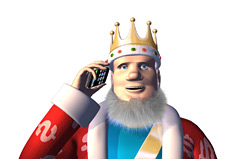 In a recent blog posting on Cardrunners.com, Cole South said that "I've been very fortunate to start the year off hot."
According to HighStakesDB.com, South is up nearly $3.5 million so far in 2010 on Full Tilt Poker.
South, who is a member of "Team Cardrunners", has been active so far in 2010, putting in a total of 42,282 tracked hands. This works out to an impressive $82.50 in profit for every hand that South has played on FTP so far this year.
Cole's profits are made even more impressive considering his competition - he has already gotten into some high-profile battles against Tom "durrrr" Dwan and Ilari "Ziigmund" Sahamies in 2010. Despite the insane level of competition, South has still managed to rake in nearly $3.5 million in two months.
Over the past 14 months, Cole South has been the third most profitable player on Full Tilt Poker, behind Patrik Antonius (+$6.9 million) and Phil Ivey (+$6.6 million). South, despite playing roughly 100k hands less than Antonius during that time, has still managed to make an impressive $5.6 million. Antonius has struggled so far in 2010, dropping over $2 million, which has allowed South to rapidly close the gap between the two of them.
Other players who have had very strong starts to the year include:
Alexander "PostFlopAction" Kostritsyn, +$2.57 million
Gus Hansen, +$1.8 million
"NEKOTYAN", +$1.15 million
David Oppenheim, +$923k
Hansen and Tom "durrrr" Dwan (+$703k) continue to recover after both turned in horrendous years on FTP in 2009.
Both Dang brothers (Hac "trex313" Dang, Di "Urindanger" Dang) are currently up around $600k in 2010, while David Benefield has reappeared recently to collect approximately $527k in profits.
On the flip side, as mentioned, Patrik Antonius has gotten off to an uncharacteristically shaky start in 2010, dropping approximately $2.1 million over 32,666 tracked hands. Given how consistently profitable Antonius has been over his career, you would have to expect that an upswing is coming soon.
Brian Townsend is the only other player to have dropped over $1 million to start the year on Full Tilt, as he has donated approximately $1.6 million to the high stakes economy over 49,228 tracked hands.
Source:
HighStakesdb.com
Source: Cardrunners.com -
"A Nice Start to 2010"
--
Filed Under:
Cash Game Results