"Isildur1" Surges, "Ziigmund" and Brian Townsend Lose Seven Figures Plus
Published on 2010-02-17 18:34:00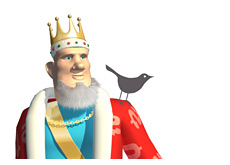 After a few month absence, "Isildur1" has returned to playing the biggest games on Full Tilt Poker, much to the delight of railbirds across the world.
After dipping his toe into the shark-filled high stakes pool earlier in February, "Isildur1" has recently decided to plunge back in headfirst, battling it out against the very best players in the world.
The results (so far) have been impressive, as "Isildur1" has managed to win north of $1.4 million over the first 16 days of February.
As a matter of fact, all of this profit has come over the past two days - since February 15th, "Isildur1" has made a total of $1,554,390 over just 8,557 tracked hands (source: HighStakesDB.com).
Over the past couple of days, "Isildur1" has had a couple of especially profitable sessions against Justin "ZeeJustin" Bonomo and Brian Hastings. "Isildur1" was able to extract a small measure of revenge against Hastings yesterday, sending the Cardrunners Pro to a loss of just under $500k over 1,363 hands. Hastings posted a massive $4 million+ win against "Isildur1" in December of 2009 during a controversial and much talked about session.
"Isildur1" and "durrrr" just started a four-table $200/$400 NLHE session - it should be interesting to see how this match goes, given the beating that "Isildur1" gave to "durrrr" a few months ago.
--
Thanks to his performance over the past couple of days, "Isildur1" is currently the most profitable cash game player on Full Tilt Poker so far in February. Cole South (+$1.35 million) and "PostFlopAction" (+$1.12 million) have also had seven figure months so far in February.
On the flip side, Ilari "Ziigmund" Sahamies (-$1.48 million) and Brian Townsend (-$1.3 million) have both had horrible starts to the month.
Source:
HighStakesDB.com
--
Filed Under:
Cash Game Results