Ivey Reportedly Put Big Bet Down on Colts and Loses
Published on 2010-02-09 05:21:00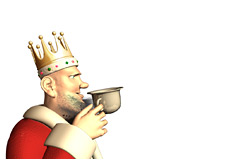 There are a few things that we know about Phil Ivey, such as:
1. He is a really good poker player.
2. He is unbelievably rich.
3. He really likes to gamble, and gamble big.
In June of 2008, rumors were swirling around the World Series of Poker that Phil Ivey had put down two million dollars on the Lakers to win the NBA Championships.
Six months later, in a "Tuesdays with Ivey" interview/conversation with Barry Greenstein, Ivey revealed that he was looking to bet a million dollars on the Super Bowl.
One year after that, according to LVRJ.com, Phil Ivey and gambling professional Billy Walters "collaborated in some way" to "place a $2 million money-line bet on Indianapolis at a Strip sports book."
According to the article, the MGM Mirage confirmed that a seven-figure bet was placed on the Colts money line.
Obviously this didn't turn out very well for Ivey, as the Saints ended up winning.
You can read more about it here
.
--
Tom "durrrr" Dwan fans will be happy to know that he has actually updated his blog.
In the blog entry, titled "a long year in recap, and isildur part 1", Dwan recounts some of the poker action that he was involved in during 2009.
Dwan talks a bit about his battles with "Isildur", and also talks about some of the crazy high stakes action in the Bellagio this past summer (3k/6k PLO?).
You can read the blog entry here
.
--
Don't forget that the sixth season of High Stakes Poker will debut on GSN this Sunday at 8 pm EST. Encore episodes will be shown at 11 pm and 2 am EST on the same night.
GSN will also be airing an "I Love Poker" marathon that will begin at 12 pm EST on Sunday. The marathon, which will "feature eight of the best episodes of High Stakes Poker from seasons one through five", will run right up until the 8 pm season six premier.
This should be a great season. Let's support the best poker show on television and tune in for the season six premier on Sunday night. The more people that watch, the greater of a chance there is that the show will stay on the air for future seasons.
--
Filed Under:
Poker on TV
|
Random Poker News