Ace-High Flush Loses to King-High Flush on Cake Poker
Published on 2010-02-04 00:22:00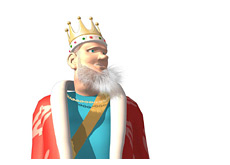 Cake Poker committed an embarrassing (and worrying) error earlier today when they awarded a pot to the wrong player in a low-limit cash game.
The major malfunction occurred in a $0.02/$0.04 No Limit Hold'em hand.
Two players got all-in preflop. They held:
Player 1 - Ah-Qs
Player 2 - Kd-Kh
The board ran out:
4c-4h-8h-6h-9h
Player 1 wins the hand with his Ace-high flush, but no! The pot is awarded to Player 2, who is holding a King-high flush.
Those who believed that the hand history was doctored were surprised when Lee Jones
posted this on 2+2
:
"Hi folks -
Unfortunately, at the moment, this appears to be real. What's bizarre is how it happened this one time out of the tens of millions of hands we've dealt. Needless to say, our software people have dropped everything else to track this down. I'll update you as soon as we understand what happened.
Best regards,
Lee Jones
Cake Poker Cardroom Manager"
A short while later, Lee
posted this
:
"Hi folks -
We're going to pause our servers briefly so we can put some logging in to watch and see if anything happens again. We'll be back up in no more than 20-30 minutes. Thanks for your patience.
Best regards,
Lee Jones
Cake Poker Cardroom Manager"
No word yet as to the extent of the problem, what has been done to fix the problem or if this problem has occurred in the past. We'll keep you posted if we hear anything new.
--
Filed Under:
Poker Room News