Party Poker Is Back on the Upswing
Published on 2010-01-24 01:44:00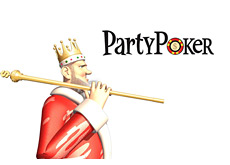 It wasn't all that long ago when Party Poker was the 800 pound gorilla of the online poker industry.
It's hard to believe that there was a time in which Pokerstars wasn't the largest online poker room in the industry. This was the case just a few years ago, before Party Poker decided to shut their doors to American players after the whole UIGEA fiasco.
Since then, Party Poker has struggled to remain relevant and competitive. Their bonus offer was inferior and they lacked a stable of sponsored players that could help to promote the brand at tournaments across the world.
Party Poker was slowly fading away into oblivion. They were the fourth largest online poker network in the world not that long ago, and in real danger of sinking to #5.
Since Jim Ryan took over as CEO from Mitch Gerber, Party Poker has experienced a resurgence.
Party Poker introduced a more competitive "Super Sign-up" bonus which made it easier to attract new players.
PartyGaming (the parent company of Party Poker) settled with the US government in April of 2009, which will make it much easier for the company to engage in acquisition talks, as well as raising capital (there are heavy rumblings that a potential merger with Bwin is close to being announced).
PartyGaming purchased the World Poker Tour brand and other assets, which will give the company a great foothold in the United States if online poker is ever licensed and regulated in the country.
Party Poker has also started to dip their toes into the sponsored player pool, recently signing Kara Scott and Tony G to contracts. Both players will now represent the Party Poker brand in tournaments throughout the world.
Party Poker is now the third largest online poker network in the world. Catching Pokerstars and Full Tilt Poker will be impossible until the company can accept US players once again.
If and when online poker is licensed and regulated in the United States, Party Poker will be at a great position to reclaim the title of top online poker room in the world.
PartyGaming has a positive relationship with the US government, having settled in April of 2009 for $105 million dollars. I'm assuming that PartyGaming would be one of the first companies to be granted a license to operate in the United States once a regulatory framework is put into place.
Not only that, but the company has a massive database of US players, as well as the World Poker Tour to help promote their brand to Americans.
Party Poker is making some big moves, and they are positioning themselves to really thrive over the next 5-10 years.
Source:
Pokerscout.com
--
Filed Under:
Poker Room News