149,196 Players Turn Out for "World Record" Tournament on Pokerstars
Published on 2009-12-28 17:08:00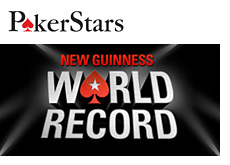 149,196 players turned out for Pokerstars' "World Record" $300k Guaranteed tournament today, furthering tightening their stranglehold on the record for "largest online poker tournament".
The previous record, which was also held by Pokerstars, was set in July. This came after 65,000 players turned out for a tournament on the site.
Pokerstars clearly did not want to wait around for Full Tilt Poker to try and break the record, so they held another "World Record" tournament today with the hopes of establishing an even harder-to-break record.
They succeeded.
Nearly 150,000 players turned out for the tournament, more than doubling the previous record.
Pokerstars was able to attract such a large crowd due to the following reasons:
-low buy-in ($1)
-plenty of very cheap satellites
-massive overlay ($300k Guarantee)
-tournament took place on a holiday weekend
It's hard to imagine this record being broken anytime soon, given the massive advantage that Pokerstars has in terms of the size of their player base.
The "World Record" tournament has been running for 1 1/2 hours, and there are currently 37,451 of the original 149,196 players left in the tournament.
The eventual winner of the tournament will take home $50,000, while the runner-up will receive $30,000.
Best of luck to everyone who is still in the tournament, and congratulations to Pokerstars for breaking the record - again.
--
Filed Under:
Poker Room News