Dwan Up A Million Plus in December After Vicious November Downswing
Published on 2009-12-05 05:48:00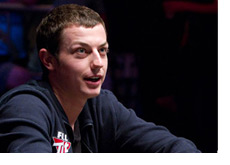 As everyone knows, Tom "durrrr" Dwan turned in one of the worst months in the history of online poker in November.
Dwan, fresh off of signing a lucrative deal with Full Tilt Poker, was surely on top of the world at the beginning of the month.
Things quickly turned sour for Dwan as he started to battle with "Isildur1". Dwan just couldn't figure out the "Isildur1" puzzle, and was soon down millions of dollars for the month.
Things didn't get any better from there, and Tom "durrrr" Dwan finished November with a loss of over $6.3 million dollars.
Dwan has bounced back from some pretty bad downswings before, but this particular downswing took things to an entirely different level. Would he continue to fight, or would he take some time off to lick his wounds?
It seems as though Dwan intends to fight his way out of this downswing, as he has been putting in some pretty impressive volume in December.
Three days into December and Dwan has already played nearly 10,000 hands on Full Tilt Poker (according to HighstakesDB.com). The result? A welcome $1.17 million dollar upswing that makes him the second most profitable player on Full Tilt Poker for the month (behind Patrik Antonius and his $1.53 million dollar profit).
It will be interesting to see where Dwan goes from here. If he manages to claw his way back and regains most (or all) of his losses, then this will just add to his legend.
I know that many people want to see him come roaring back - 2010 should be a very interesting year for "durrrrr".
--
Andrew "Browndog19" Brown is having quite the run right now.
A few weeks ago, "Browndog19" managed to win the $25k Heads-Up Pot Limit Omaha Championship on Full Tilt Poker for nearly $400k.
"Browndog19" managed to outlast names such as Patrik Antonius, Phil Ivey and Cole South to take down the tournament. In the finals of the event, he managed to topple the very tough "UgotaBanana" to take down the first place prize.
Since then, "Browndog19" has continued his ultra-hot run in the high stakes cash games on Full Tilt.
Since the beginning of December, "Browndog19" is up over $240k on Full Tilt. Since his heads-up victory in late November, he is up over $300k.
"Browndog19" has proven that he can hang with some of the best players in the world. He is definitely a name to look out for in 2010.
Source:
HighStakesDB.com
Photo: GreasieWheels.com
--
Filed Under:
Cash Game Results