"Isildur1" Loses Millions Over The Past Two Days
Published on 2009-12-01 19:53:00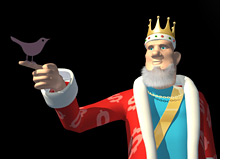 Has "Isildur1" finally imploded, joining the ranks of a number of other players who had some short-term success at the highest of stakes, only to give it all back?
Has multi-tabling against the likes of Patrik Antonius and Phil Ivey finally caught up to the young Swedish sensation?
It certainly looks that way, as a horrible 48 hour run on Full Tilt Poker has robbed "Isildur1" of all of his November profits.
According to HighstakesDB.com, "Isildur1" finished the month of November up approximately $2.3 million dollars. Just two weeks into the month, "Isildur1" had been up over six million dollars, and was routinely crushing some of the very best players in the world.
Things started to catch up to "Isildur1" in the second half of November, as he saw his incredible profits start to melt away. He didn't shy away from anyone though, continuing to battle the likes of Antonius and Ivey and Sahamies.
Today was a particularly rough day for "Isildur1", as HighstakesDB.com has him down over $2.5 million dollars over the last 24 hours. This staggering loss came over 6,090 tracked hands, meaning that "Isildur1" lost an average of $412 in every hand that he played.
Patrik Antonius managed to win a good portion of this money, reeling in a profit of $1,468,900 over the past 24 hours. Thanks to this profit, Antonius is now, once again, the most profitable player on Full Tilt Poker in 2009 (up about $7.2 million dollars).
Cole South, who received an epic beatdown from "Isildur1" back in November, managed to extract a measure of revenge as well, making about $824k over 4,525 tracked hands.
It's a bit disappointing to see "Isildur1" lose so much money over the past few weeks, just because he was single-handedly reinvigorating the high stakes games on Full Tilt Poker. He was super-aggressive, preferred deep-stack poker and didn't duck any of the players who sat with him. What's not to like about that?
It remains to be seen whether or not "Isildur1" will return to the high stakes games on Full Tilt. Let's hope that he does.
Source:
HighStakesDB.com
--
Filed Under:
Cash Game Results