"Isildur1" Hammers "durrrr" In Short Session
Published on 2009-11-21 07:55:00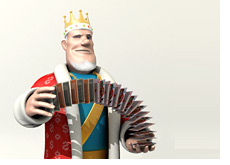 Just a day after smashing Sammy "Any Two" George for $750k in the "durrrr" Million Dollar Challenge, Tom "durrrr" Dwan dropped it all back (and more) to his arch-nemesis, "Isildur1".
The multi-table $500/$1000 PLO match-up between "durrrr" and "Isildur1" just ended, and the result wasn't pretty for Dwan.
The match ended in just over 500 hands, with "Isildur1" adding another $800k of Dwan's money to his bankroll.
"Isildur1" busted Dwan on all tables in rapid succession, leaving "durrrr" to exit the battle without a word. Dwan was tilting pretty badly by the end of the 500+ hand battle, donating hundreds of thousands of dollars in spots where he was almost drawing dead.
I believe that after tonight's battle, "Isildur1" is up around $5.8 million dollars on Full Tilt Poker in the month of November, while Tom "durrrr" Dwan is down about $5.5 million.
Dwan's current downswing has been pretty unbelievable, even by his standards.
Over the past 30 days, Dwan is down approximately $6 million dollars on Full Tilt Poker. I'm not sure what the biggest one-month downswing is in the history of online poker, but this has to be pretty close, if not #1.
"durrrr", who at one time had battled back to break-even in 2009 after quickly digging himself into a $4 million dollar hole, is currently down about $6 million dollars on the year.
I'm not sure exactly how deep Tom Dwan's bankroll is, but he has to be hurting pretty badly after dropping $6 million dollars in just a month.
Will "durrrr" quit "Isildur1", who clearly has Dwan's number?
We'll find out in the weeks and months ahead..
--
Filed Under:
Cash Game Results