"Isildur1" Now Up $7 Million+ In November
Published on 2009-11-15 20:25:00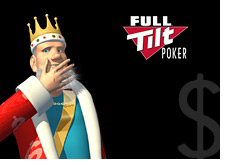 Another day, another million dollar session for "Isildur1" on Full Tilt Poker.
Sure, we are talking about "Isildur1" quite a bit lately on this blog, but why not? This mysterious Swedish player is steamrolling some of the very best poker players in the world, and has now had one of the best stretches ever in the history of online poker.
Prior to today's session, "Isildur1" was up just over $6 million dollars on Full Tilt so far this month.
After today's PLO session against Patrik Antonius and David Benyamine (two of the very best PLO players in the world, by the way), you can add another $1.1 million dollars to this total.
So, after the first 14 1/2 days of November, "Isildur1" has banked over $7 million dollars on Full Tilt Poker.
The victims?
Tom "durrrr" Dwan is now down an incredible $5.47 million dollars in November. Dwan is now the biggest loser on Full Tilt Poker for all of 2009, having dropped nearly $6 million dollars over 233k+ tracked hands.
Patrik Antonius has also not fared very well against "Isildur1" this month. Including the session from earlier today, Antonius is now down about $1.8 million dollars on FTP this month, with much of this money being lost to "Isildur1".
It's also worth noting that "Isildur1" is now the most profitable player on Full Tilt Poker this year, having passed Patrik Antonius earlier today. "Isildur1" is now up over $6 million dollars on Full Tilt Poker in 2009, while Antonius is up around $4.9 million dollars.
Will players such as Tom Dwan and Patrik Antonius continue to battle against "Isildur1", or will they eventually wave the white flag?
Will Phil Ivey take up the challenge and battle the Swedish player, as many people are hoping?
We'll soon find out..
--
Filed Under:
Cash Game Results