Dwan and "Isildur1" Continue Their Epic Battle on Full Tilt Poker
Published on 2009-11-10 20:56:00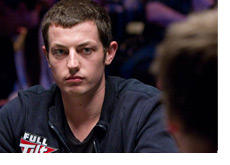 Once Phil Ivey was eliminated from the World Series of Poker main event, most of the attention in the online poker world turned to the epic "durrrr" vs "Isildur1" battle on Full Tilt Poker.
There have been some incredible heads-up battles on Full Tilt Poker over the years, but the Dwan / "Isildur1" confrontation has blown them all away.
Huge pots. Incredible call downs. Massive momentum swings. This battle has had it all.
The two players just started another session on Full Tilt Poker. There are currently six tables of $500/$1000 No Limit Hold'em going, and you can expect this to continue for the rest of the night.
Incredibly, Dwan is also playing Ilari "Ziigmund" Sahamies heads-up on two $500/$1000 PLO tables. That's a pretty ridiculous multi-tabling session.
As of last night, "Isildur1" was apparently up nearly $2 million dollars over almost 21,000 tracked hands in the battle.
So far, "Isildur1" has had Dwan's number. It will be interesting to see whether or not Dwan will be able to reverse the momentum and win his money back, as he did with "martonas".
"Isildur1" is an extremely aggressive player who loves to play deep-stacked poker. Combine "Isildur1" with the always-aggressive "durrrr", and you have a recipe for one of the greatest online cash game battles of all time.
Maybe Full Tilt Poker should promote this battle instead of the extremely uninteresting "Durrrr Challenge" match-up between Dwan and Antonius.
Like Terrell Owens said - "Get your popcorn ready."
Photo: GreasieWheels.com
--
Filed Under:
Cash Game Results