A.J. Benza To Be Replaced by Unnamed Female Host
Published on 2009-10-12 02:41:00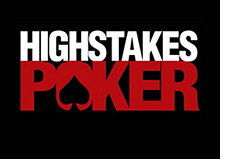 When "High Stakes Poker" returns for its sixth season in February of 2010, there will be one major change - A.J. Benza will no longer be a part of the show.
According to his most recent blog entry titled "A FLOP, A TURN and a RIVER of Shit", Benza reveals that GSN executives have decided to replace him with a female host for the sixth season of the show.
Many people seem to be of the opinion that Vanessa Rousso will be the new co-host of the show, but nothing has been confirmed as of yet. As of now, this is strictly a rumor.
Benza was none-to-pleased to be let go from his "gig" on the show, pointing out that the show had "posted No.1 ratings for five straight seasons on GSN".
Benza also revealed that he offered to take a pay cut to remain with the show, but that this did nothing to persuade GSN executives to keep him on the show.
GSN reportedly has no interest in replacing the other host of the show, Gabe Kaplan.
I know that some people will disagree with me, but I liked A.J. Benza's contribution to the show and will be sad to see him leave.
"High Stakes Poker" is clearly one of the best poker shows on television (if not the best), and Benza has been a part of the show from the beginning. Tinkering with a winning format doesn't seem like a very smart thing to do..
Benza also had this to say on his blog:
"I unashamedly told those two guys that if I dont get my gig back....."your basically putting a man and his family on the street. Is that what you want on your concience?"
I also feel for A.J. due to the fact that GSN kept both him and Gabe Kaplan hanging during the long pause between the end of season four and the beginning of season five.
If you'll remember, the status of the show was in "limbo" for over a year, and the two hosts of the show were kept in the dark while the fate of the show was being decided.
Benza and Kaplan had a good chemistry (in my opinion) on the show that will be very hard to replace. I don't like this move.
The sixth season of "High Stakes Poker" (without A.J. Benza) will begin airing on GSN in February of 2010.
Source:
A.J. Benza's Blog
--
Filed Under:
Poker on TV