Ivey Up Almost $3 Million Dollars on FTP in 2009
Published on 2009-10-09 04:55:00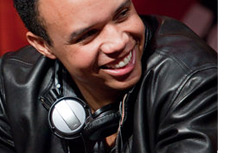 Things are going pretty well for Phil Ivey right now.
Not only did Ivey win two World Series of Poker bracelets this past summer (and millions of dollars in prop bets), but he also has a chance at taking down the World Series of Poker main event in less than a month.
In addition to his recent success in "live" poker tournaments, Phil Ivey has also enjoyed a nice run on Full Tilt Poker, banking over $1.5 million dollars in just the past week.
Over a total of 2,770 tracked hands in October, Phil Ivey has managed to bank an impressive $1,511,920 in total profits. That works out to an average profit of about $545 per hand.
Things didn't start out well for Phil Ivey on Full Tilt Poker in 2009, as he dropped nearly a million dollars in January ($973,358.54).
Ivey has managed to turn things around (not a surprise) since then, and is currently up nearly $3 million dollars on the site in 2009. Only Patrik Antonius, Ashton "theASHMAN103" Griffin and Richard Ashby have made more than Ivey on FTP this year, but Ivey is now within striking distance of all three.
Since the beginning of 2008, Ivey has made more than $10 million dollars on Full Tilt Poker, nearly $2.5 million dollars more than the next closest player (Phil "OMGClayAiken" Galfond).
A good portion of Ivey's October profits came during a strong 7-Game performance yesterday. Ivey managed to run over the game and bank nearly $1.2 million dollars over just 1,270 hands, at the expense of players such as Tom "durrrr" Dwan and Phil "OMGClayAiken" Galfond.
Coles Notes: It's good to be Phil Ivey right now.
Source:
HighStakesDB.com
Photo: GreasieWheels.com
--
Filed Under:
Cash Game Results