WCOOP Prize Pool Ends Up Totaling $50,058,800
Published on 2009-09-20 23:21:20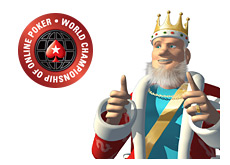 Just a few short years after the UIGEA threatened to ruin online poker (at least for American players), Pokerstars managed to put on an online poker tournament series that ended up with a total prize pool of over $50 million dollars ($50,058,800 to be exact).
The WCOOP (World Championship of Online Poker) continues to grow in size with each passing year, and you really have to wonder what the site will do to top this performance next year.
The WCOOP main event, which just got underway a few hours ago, ended up with a total of 2,144 players. This strong turnout resulted in a total prize pool of over $10.7 million dollars for the main event, and a $50 million dollar plus prize pool for the entire series.
The 2009 prize pool was more than double that of 2007, and almost 70 times larger than that of the first WCOOP in 2002.
Here is how the WCOOP prize pools have progressed over the years:
WCOOP 2009 - $50,058,800
WCOOP 2008 - $39,958,000
WCOOP 2007 - $24,218,600
WCOOP 2006 - $18,674,300
WCOOP 2005 - $12,000,000
WCOOP 2004 - $6,000,000
WCOOP 2003 - $2,700,000
WCOOP 2002 - $730,000
The very first WCOOP main event attracted a total of just 238 players, and the first place prize in that event was just $65,450.
The fact that the winner of this year's main event will take home over $1.7 million dollars shows just how far online poker (and Pokerstars) has come in the past eight years.
--
Filed Under:
Poker Room News