Poker PROductions, Full Tilt Poker Targets of New Lawsuits
Published on 2009-09-15 00:39:00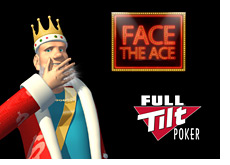 A new week is upon us, and two new poker-related lawsuits have been filed.
The first lawsuit has to do with the brand-new "Face the Ace" show that has been airing on NBC as of late.
The show, which is produced by Poker PROductions (they are also behind such shows as "Poker After Dark" and "High Stakes Poker"), is now the subject of an $85 million dollar lawsuit.
Brandon McSmith claims that he pitched Poker PROductions a show that was to be called "All Star Poker Challenge". This show would see "ordinary people test their No Limit Texas Hold'em poker skills in a series of heads up matches against the world's top poker stars for a chance to win a coveted $10,000 seat at the World Series of Poker."
The proposed show would have had contestants play "5 heads up No Limit Texas Hold'em matches against the world's top poker stars". Each win was to be worth $2,000, and the player could decide whether or not to keep going after each match. Win 5 straight matches and you would secure a seat to the World Series of Poker.
McSmith has filed a lawsuit seeking a reported $85 million dollars in damages, claiming that "Face the Ace" was his idea.
I'm not exactly sure where that number came from, but it's certainly a great deal of money.
TMZ.com broke the news a few days ago
, savaging the low-rated "Face the Ace" in the process.
--
Pokerati.com is reporting tonight
that another former employee of Full Tilt Poker has launched a lawsuit against the company.
Jason Newitt has reportedly filed a lawsuit in Nevada, claiming that he was "unfairly fired, and that his distribution payments were unfairly ceased". According to the lawsuit, Newitt also claims that he had his ownership stake in the company taken away from him.
The lawsuit apparently names Tiltware, Full Tilt Poker, Pocket Kings Ltd., Pocket Kings Consulting Ltd., Raymond Bitar and Howard Lederer as defendants.
If you'll remember, Jason Newitt was the person who accidently forwarded the "the guy's a freak and a very weird dude" email to Jimmy "gobboboy" Fricke.
You can read more about that here
.
Apparently this mistake either directly led to or helped lead to Newitt's dismissal from the company.
I'll be interested to hear just big of an ownership stake Newitt had in Full Tilt and its associated companies. Even if it was a 0.1% stake, then we are still talking about a significant amount of money. I'd be pissed as well if I lost my distribution payments and ownership stake in the company - I'm looking forward to hearing Full Tilt's side of the story in this matter.
Newitt was obviously fairly well-placed in the company, and I am sure that he has full knowledge of how the company operates, how it is structured, etc. I'm sure that Full Tilt Poker won't want this lawsuit to progress very far, for fear of having to reveal too many details about the company and how it is structured.
This lawsuit is quite similar to the Clonie Gowen suit, as she claims that she was also cheated out of distribution payments and her stake in the company. That lawsuit is still open.
In both of these lawsuits (Newitt and Gowen), the plaintiffs have a very thorough understanding of Full Tilt and how the enterprise is set up. This has to be very worrying to the powers that be at the company, and I would be surprised if both of these lawsuits weren't settled amicably.
--
Filed Under:
Random Poker News