"XTheDecanoX" Takes Down $1,050 NLHE WCOOP Event
Published on 2009-09-09 18:14:00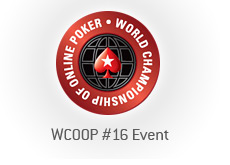 "XTheDecanoX" overcame 1,557 other players and some poor planning from Pokerstars to take down the $1,050 NLHE event (#16) at the 2009 WCOOP earlier this morning.
For some strange reason, Pokerstars not only decided to start this event at 20:00 ET, but they also elected to make it a 1-day tournament.
This resulted in the tournament finishing up at 10:34 ET earlier this morning, much to the dismay of the people who were able to make a deep run.
I'm not sure why Pokerstars didn't make this a 2-day event, but what do I know?
Anyways, "XTheDecanoX" managed to navigate through the shark-infested field to take down the first place prize of $249,280.00. This was no easy feat, given that the tournament featured most of the very best online poker players in the world.
"DuckU", who seems to go deep in major online tournaments at will, managed to finish in 3rd place for just over $140k.
"skilled_sox" (2nd, $186,960), "pedmend" (4th, $102,438.50) and "hoodini10" (5th, $74,005.00) rounded out the top five.
Also, for reasons known only to them, Pokerstars decided to feature a $500,000 guarantee for this tournament. This seemed outrageously low before the tournament started, and even more so once the final prize pool was tabulated ($1,558,000).
Congratulations to "XTheDecanoX" on the impressive win.
--
Filed Under:
Online Poker Tournament Results