"Top Guns" Cash Game Set to Stretch Over Two Weeks
Published on 2009-09-06 01:26:00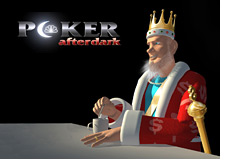 A two week cash game begins on "Poker After Dark" this Monday that will feature some of the very best players in the world.
The minimum buy-in will be $100,000, and the blinds will begin at $200/$400 with $100 antes.
The names that will be playing in the "Top Guns" cash game over the next two weeks are:
Tom "durrrr" Dwan
Phil Ivey
Howard Lederer
Eli Elezra
Ilari "Ziigmund" Sahamies
Patrik Antonius
If the average poker fan was asked to create their "dream" high stakes cash game table, then I bet that at least 4-5 of these names would appear on the list. You really couldn't ask for a more entertaining table.
Howard Lederer seems like a bit of an odd selection, but it will be interesting to see how he adjusts to the ultra-aggressive players at the table. He's a very smart and capable player, and I suspect that he will handle himself very well.
Dwan, Ivey, Elezra, Sahamies and Antonius are all varying degrees of aggressive, and I would imagine that we will see some pretty monster pots over the next few weeks.
Eli Elezra will be a great addition to the line-up because he loves getting involved in big pots and is an all-around action junkie. His presence will serve to make the play even more aggressive.
The combined net worth of the six players at this table is off the charts, and I wouldn't be surprised to see the blinds bumped substantially higher over the course of the two weeks.
The two "Top Guns" cash game weeks will surely end up having some of the most-watched and most discussed episodes in the history of the show. Don't miss out..
--
Filed Under:
Poker on TV