Partygaming To Buy World Poker Tour for $12.3 Million Dollars
Published on 2009-08-25 22:34:46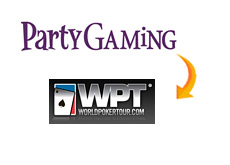 The mystery bidder has been revealed.
Late last week, WPT Enterprises Inc., the parent company of the World Poker Tour, announced that they had received an "alternative acquisition proposal" that needed to be considered.
This came just a short while after Gamynia Ltd. announced their intentions to buy most of the World Poker Tour's assets for just over $9 million dollars.
The mystery bidder turned out to be Peerless Media Limited, which is a subsidiary of PartyGaming.
Partygaming, as you probably know, is the parent company of Party Poker.
Partygaming announced that they were bidding $12.3 million dollars for a number of WPT assets, including their brand names and library of episodes.
WPT Enterprises Inc. will keep their cash, investments and "certain excluded assets" as part of the deal.
In addition, WPT Enterprises, Inc. will also receive "5% of future gaming and other revenues". Partygaming has guaranteed that WPT Enterprises, Inc. will receive "at least an aggregate of $3 million during the three years following the Close under this future revenue sharing agreement".
According to the most recently released Form 8-K filing, WPT Enterprises Inc. still plans on acquiring a non-poker related business. They will not be distributing any of this cash to shareholders.
As part of their original agreement with Gamynia Ltd., WPT Enterprises Inc. must pay Gamynia Ltd. $1 million dollars in order to walk away from the deal. Partygaming has agreed to front WPT Enterprises Inc. this amount, with the rest of the $12.3 million dollars coming when the deal closes.
There is still time for Gamynia Ltd. to increase their bid. The 8-K states that WPT Enterprises Inc. can walk away from the Partygaming deal if they receive a superior offer. WPT Enterprises Inc. would need to pay $1 million dollars to Partygaming if this happened, so Gamynia Ltd. would need to significantly upgrade their original deal in order for WPT Enterprises Inc. to bite. I have a feeling that the World Poker Tour will end up with Partygaming, but I guess we'll see.
This is a smart deal for Partygaming. They were already the World Poker Tour's largest customer, accounting for a full 30% of the WPT's revenues in the first half of 2009. They will be able to have their logos and commercials plastered all over the WPT's international broadcasts for no extra cost. In addition, Party Poker will have a great platform to attract new customers if online poker is ever licensed and regulated in the United States.
This seems to be a very smart, low-risk deal for Partygaming.
--
Filed Under:
Random Poker News