"Poligraph" Captures FTOPS XIII Main Event Title
Published on 2009-08-17 14:17:49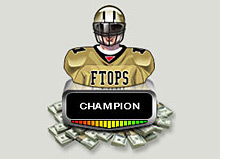 "Poligraph" successfully navigated through a 5,306 player field to take down the FTOPS XIII main event earlier this morning.
For his victory, "Poligraph" took home over $453k. "Inoriisss", who succumbed to "Poligraph" in heads-up play, took home $315k for his second-place finish.
The two players appeared as though they had agreed to a deal when "Inoriisss" suddenly changed his mind and exited the deal screen.
Moments later, "Poligraph" was celebrating his victory after hitting a runner-runner straight to claim the main event title.
"Inoriisss" was the short stack and decided to push all-in with A-6 offsuit. "Poligraph" called and showed J-Q offsuit.
"Inoriisss" was looking to be in splendid shape after the flop came 2-A-3. "Poligraph" didn't have any flush draws and would have to hit something runner-runner to win the pot.
That's exactly what ended up happening. The turn brought a King, giving "Poligraph" a straight draw.
The river was a 10, sealing the deal for "Poligraph" and sending "Inoriisss" to the rail in disbelief.
Here is how the final table finished out:
1. "Poligraph"
2. "Inoriisss"
3. "Kamdini"
4. "InsomniacSloth"
5. "TheFatFish"
6. "highrollr19"
7. "pagoda 1"
8. "Slick Nittany"
9. "locoenlacabeza"
All in all, this was a very successful event for Full Tilt Poker.
5,306 players turned out for the main event, creating a total prize pool of $2.653 million dollars.
This was a substantially higher turnout than the previous FTOPS main event, which saw just 4,581 players take part.
Congratulations to "Poligraph" on his victory.
--
Filed Under:
Online Poker Tournament Results