Gamynia Limited Purchases the World Poker Tour
Published on 2009-08-04 08:19:52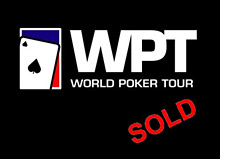 The end of an era.
On July 28th, WPT Enterprises (the World Poker Tour) entered into an agreement to sell "substantially all of the Company's operating assets other than cash, investments and certain excluded assets" to Gamynia Limited.
The entire company is not being sold, but all of the WPT-related assets are going to have a new home.
Documents were filed with the SEC earlier today, and the transaction is now pending shareholder approval.
Gamynia Limited is part of a private investment group with over $1 billion in total assets. According to a press release, Gamynia Limited has partnered with Hardway Investments Ltd. to "exploit and develop the WPT brands with a goal of maximizing future revenue opportunities".
According to their web site, Hardway Investments are "producers of award winning casino and poker brands, including Titan Poker and Europa Casino. "
Gamynia Limited will pay WPTE $9.075 million dollars, as well as a slice of the revenues going forward. As mentioned, this doesn't included cash, investments and "certain excluded assets". WPTE will continue to receive 4% of future gaming revenues and 5% of future sponsorship and non-gaming revenues going forward.
WPTE will basically be a shell company after the transaction is complete. They don't plan on distributing the cash to shareholders - rather, they intend to "develop or acquire a non-poker related business". Not sure exactly what kind of business they are planning on getting involved in...
The Board of Directors at WPTE have unanimously approved the deal, and the company will now hold a meeting where shareholders will vote on the deal.
I'm not sure what this will mean in terms of the WPT tournament schedule going forward. More European dates maybe?
I'm also not sure what this will mean for the sponsorship deals that the World Poker Tour currently has in place with a number of different online poker rooms.
The roller-coaster ride of the World Poker Tour as a publicly traded company seems to have come to an end.
Remember when the company was worth hundreds of millions of dollars? Remember the Doyle Brunson saga? That wasn't that long ago, and now all of the WPT-related assets are being sold for less than $10 million dollars.
If there are any more interesting pieces of information that surface over the next couple of days in regards to this story, then we'll let you know.
Source:
Form 8-K, WPT Enterprises, Inc.
--
Filed Under:
Random Poker News