WCOOP Extreme Satellites Begin August 4th
Published on 2009-07-30 08:36:24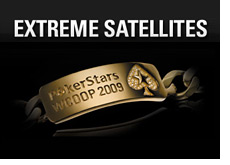 Pokerstars is pulling out all the stops to make sure that the 2009 WCOOP (World Championship of Online Poker) is the biggest online poker tournament series ever.
The 2009 WCOOP is going to have a total of 45 events with a total guaranteed prize pool of $40,000,000. Given the surging popularity of Pokerstars and the continued growth of the WCOOP, I would expect that the final prize pool will be closer to $50 million dollars.
In addition to guaranteeing a ridiculous amount of prize money, Pokerstars will also be unleashing their "WCOOP Extreme Satellites".
These "extreme satellites" will be running multiple times per day from August 4th to August 16th.
The "extreme satellites" will be awarding thousands upon thousands of seats for various WCOOP events.
Pokerstars will be kicking in over a million dollars of their own money in the form of added seats.
For instance, there is a $215 satellite on August 10th that will have a total of 50 x $1,050 WCOOP seats added to the prize pool.
In total, Pokerstars will be adding thousands of seats to these 26 "extreme satellites", so it would be well worth your time to check them out.
Here is a complete schedule of the "extreme satellites":
August 4
14:00
$7.50
100 x $109 seats added
August 4
21:00
$27
100 x $215 seats added
August 5
14:00
$82
50 x $530 seats added
August 5
21:00
$27
100 x $215 seats added
August 6
14:00
$82
100 x $320 seats added
August 6
21:00
$7.50
100 x $109 seats added
August 7
14:00
$27
100 x $215 seats added
August 7
21:00
$82
100 x $320 seats added
August 8
14:00
$215
50 x $1050 seats added
August 8
16:00
$27
100 x $215 seats added
August 9
14:00
$82
100 x $320 seats added
August 9
16:00
$82
50 x $530 seats added
August 9
18:00
$27
100 x $215 seats added
August 10
14:00
$27
100 x $215 seats added
August 10
21:00
$215
50 x $1050 seats added
August 11
14:00
$82
50 x $530 seats added
August 11
21:00
$27
100 x $215 seats added
August 12
14:00
$82
100 x $320 seats added
August 12
21:00
$82
50 x $530 seats added
August 13
14:00
$7.50
100 x $109 seats added
August 13
21:00
$82
100 x $320 seats added
August 14
14:00
$27
100 x $215 seats added
August 14
21:00
$82
50 x $530 seats added
August 15
14:00
$215
50 x $2100 seats added
August 15
16:00
$7.50
100 x $109 seats added
August 16
14:00
$27
100 x $215 seats added
August 16
16:00
$215
50 x $5200 seats added
August 16
18:00
$27
100 x $215 seats added
--
Filed Under:
Poker Room News