"Largest Online Poker Tournament" Record Set To Be Smashed on Sunday
Published on 2009-07-18 02:28:12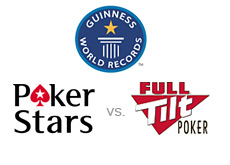 In December of 2008, Pokerstars set the record for "Largest Online Poker Tournament" ever.
35,000 players took part in the $11 buy-in tournament on December 28th, 2008.
The 35,000 player field easily crushed the old record of 20,000 players (which was also held by Pokerstars). The previous record was set in a Sunday Hundred Grand tournament in July of 2007.
Not to be outdone, Full Tilt Poker recently announced their intention to gain entry into the Guinness Book of World Records as part of their "Full Tilt Poker Five" promotion.
Their attempt at breaking the record will be held this Sunday at 15:05 ET.
The buy-in will be $5, and there will be a total prize pool of $500,000.
Full Tilt is hoping, at best, to have a turnout of 50,000 players (which is the cap on the event). At worst, they are looking for a turnout of 35,001 players, which would allow them to set the record for "Largest Online Poker Tournament".
Seeing as how there are already 30,602 players registered for this tournament, Full Tilt Poker should easily break the record that is currently held by Pokerstars.
Not so fast though.
If you thought that the largest online poker room in the world (Pokerstars) was going to allow their #1 competitor (Full Tilt Poker) to claim this record, then you were wrong.
This Sunday, just one hour before the Full Tilt Poker record attempt starts (lol), Pokerstars will be hosting yet another "world record attempt".
The tournament, as mentioned, will begin at 14:10 ET on Sunday afternoon.
The buy-in will be just $1, and there will be a guaranteed prize pool of $100,000.
There are an outrageous number of freerolls and satellites currently taking place for this event - clearly Pokerstars isn't going to allow Full Tilt to snatch the record away from them.
As of this moment, there are currently over 16,000 players registered for this $1 tournament.
I think that it's safe to say that this tournament will easily top the 50,000 player mark, which will end up eclipsing Full Tilt Poker's attempt.
It should be interesting to see how the two servers hold up on Sunday - I would be very surprised if both of these sites managed to hold up without any noticeable lag (or worse) on Sunday.
I thought that the original promotion by Pokerstars in late December was kind of cool - now I find myself saying, "Who cares?"
If you are a micro-stakes player who wants a chance at a big score, then I would definitely check these two tournaments out on Sunday.
As I said - let's see how these two sites handle all of the traffic on Sunday.
--
Filed Under:
Poker Room News