New FTP Software Update Has Many People on Tilt
Published on 2009-07-09 08:43:04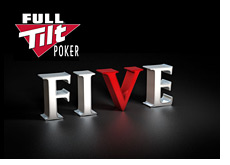 Full Tilt Poker decided to celebrate their fifth birthday by rolling out an update that seems to be filled with bugs and glitches.
The sad thing is that FTP has a number of "fifth birthday" promotions starting up, but many people can't even log onto the site to play.
Here are some of the problems that are currently being reported to us from readers of this site:
1) Unable to get the download for the update to work properly
2) Software is lagging
3) Software is crashing
4) Readers aren't happy with the new cards
These are just a few of the complaints that I am hearing about this new update - I could go on..
According to Full Tilt Poker, this update has been in beta for "months" - clearly it wasn't in beta long enough, just based on the comments that I am receiving.
This is a major, major update from Full Tilt Poker. To be honest, I don't really see the reasoning in unleashing this upgrade on the general public. Most people were fairly happy with the software before this update - why mess with something that people already like?
There are more pressing issues that should have been dealt with first before any upgrades.. to start, additional log-in security..
Happy birthday FTP - for my birthday, I would like everything to go back to the way it was.
Please?
--
Filed Under:
King Updates